St Audoen's Cornmarket, 10.00 Eucharist (every Sunday)
St Catherine & St James, Donore Avenue, 11.30 Service of the Word (Eucharist on the first
Sunday of the month)
Services on Christmas Day will be at the usual Sunday times.
Betty Moore
Betty and Richard's 50th anniversary was in 2012. She had a beautiful service before guests had
their meals. Betty was thankful so many times during her life and shared her Faith with people
close to her.
She was an active member of St Catherine's Church for many years until she and Richard
relocated to Castlebar Mayo. In St Catherine's she was a Sunday school teacher with Eleanor and
Irene.
For many years she led The Anchors with her assistant Irene and helper Ruth and pianists
Marjorie and Helen. Always involving others where she worked and having Anchor Display in
St Catherine's school at the end of each session.
Originally from Sandymount- she was the eldest of three children, Cecil who pre deceased her
and Ken who still lives in Dublin. So many people remember her in St Mark's Girls Brigade.
When told the sad news recently, people from that time have remembered her by her smile.
When her parents moved to the North side of the city she was involved in North Strand Parish
where she married Richard.
Recently she and Richard were 60 years married but unfortunately because of the Pandemic, like
so many of us couldn't celebrate their Milestone Anniversary.
Her family and friends were part of Betty's life-no matter where they lived. She remembered
birthdays and anniversaries for everyone – family and friends. Again the Pandemic restricted her
doing this but she kept in touch by phone with so many people.
All of her children attended St Catherine's school and she also brought younger relations into her
home to help their parents. Paul after school and Derek before and after Anchors. Her brother
Kenneth will have memories too.
Most children in her care called her-'Mrs Moore' as did the two mentioned in parish activities-
but she was 'Auntie Betty' at home for them and many other children. And of course her own
children always called her 'Mom'
She was a Daughter of many parishes and will be remembered by her Christian Faith by all who
knew her.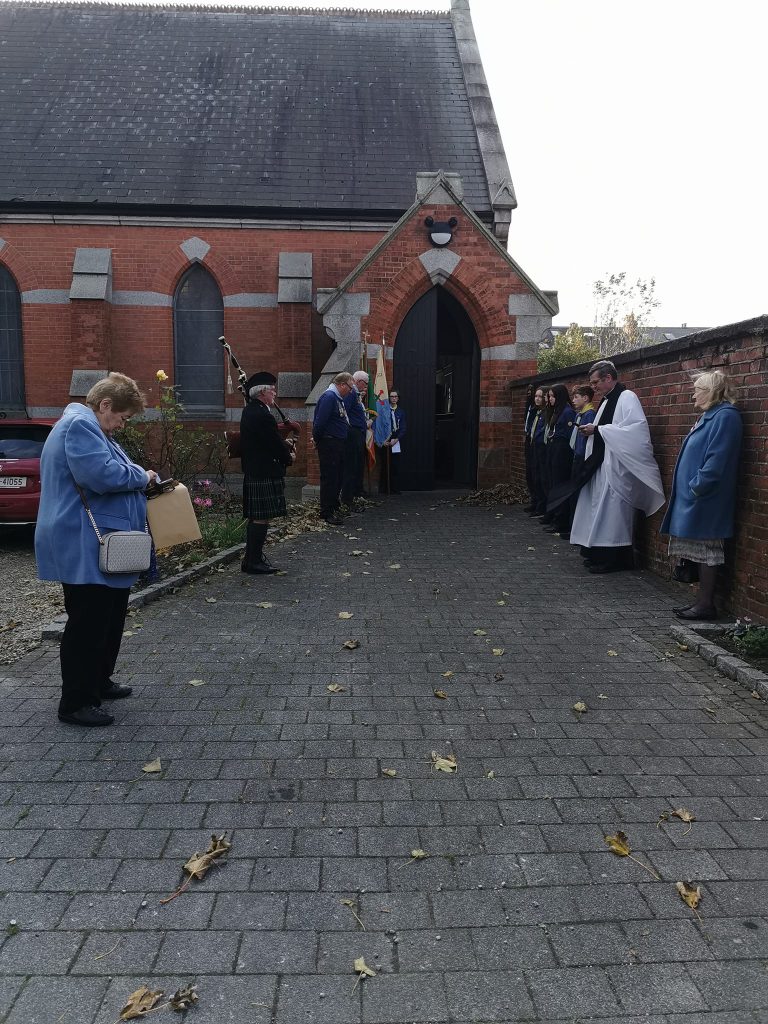 Remembrance Sunday
There was an Act of Remembrance at Service of the Word in St Catherine & St James. The
Scouts, Donore Avenue's 35 th Dublin Group, were present drawn together by their Scout Leader
Nicole Atkinson. The Piper, Mick Foy, played as the parade entered the Church Afterwards
John and Nóra Lawlor sang The Dublin Fusiliers by Johnny McEvoy, accompanying themselves
on their guitars, in remembrance of the almost 5,000 Dublin Fusiliers who died in the war. I am
most grateful to the Scouts for their participation which made for a memorable occasion.
That same day the Miscarriage Association of Ireland held its Annual Service of Remembrance
in St Teresa's Church Donore Avenue, having gathered only online during the lockdown. There
were many special moments, like the dimming of the lights to let the soft candlelight shine from
the altar, after so many people of every age had laid their candles there. A poem was read,
beginning 'For the little hams I never got to hold, and all the little clothes I never got to fold' and
ending 'I know I will carry you always in my heart'. Reflections for each month followed.
August: They have only gone as far as God, and God is very near.' I am most grateful to Fr
David Corrigan for his generous hospitality.
Pamela Benson
Sister of my friend the late Charles Benson of this Parish, a tribute paid by his son Ralph at the
funeral at which I officiated at Mount Jerome. 'In 1962, Pam entered Trinity College Dublin,
maintaining a family association with the university which goes back to her great, great
grandfather. After college, Pam took a job in Addenbrooke's Hospital in Cambridge. Pam was
part of the transplant team. It was in Cambridge that Pam met the theoretical physicist Stephen
Hawking, and began to work for him alongside her main job. Pam would become one of
Stephen's longest-serving carers, for nearly half his life in fact. She was sought-after for her care
whenever he was travelling abroad. His daughter Lucy sent me the following tribute: We all
loved Pam so much and knew her for so many years. My father's life would not have been
possible without her, and she was a true friend right to the end of his life.'
Canon Mark Gardner Tel: 01 454 2274 Mobile 087 266 0228
Email: markgardner300@gmail.com
Diocesan Lay Reader: James Kilbey
Review Distribution: Margery Bell Tel: 01 4542067
Website: stcatherineandstjameswithstaudoen.ie