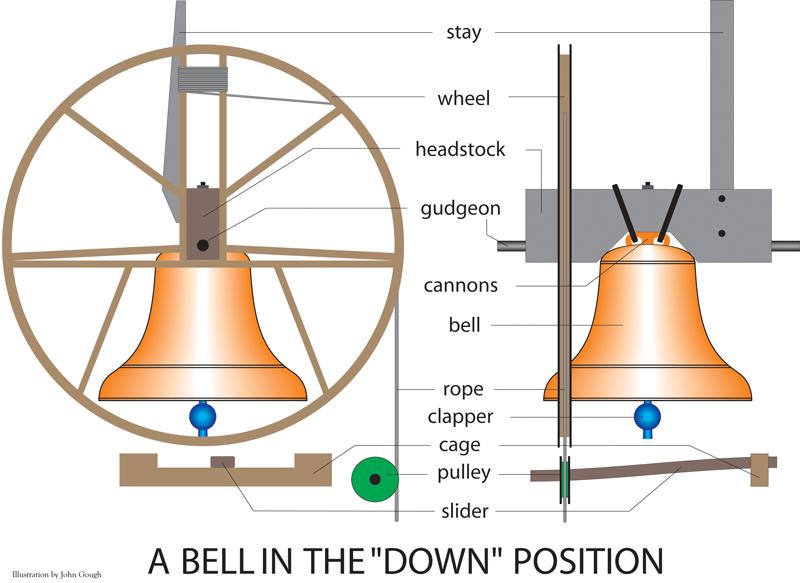 Originally founded in 1190 St Audoen's church is the only medieval parish church remaining in Dublin, and one of the oldest buildings in Ireland. St Audoen's houses the oldest ringing bells in Ireland, with three of its six bells dating from 1423. There is no indication as to who cast the bells or how they came to be in St Audoen's, but happily they are in excellent condition. They still have their original cannons and inscriptions.
The decay of the fabric of the tower in the late nineteenth century meant that ringing ceased between 1898 and 1983, when the bells and steeple were put in good order. Reinforced concrete braces now support the tower. Gabriel Lindoff was said to have been one of the last people to have heard the bells ring, when he came from Lincoln St Giles (the Church has since been taken down and rebuilt in the suburbs of the city) to Dublin, to teach the science and art of change-ringing to the bellringers of St Patrick's Cathedral after the installation of the mellifluous Cherry ring, at the time of the Guiness restorations. His monument is near the Minot tower, and his son, Gabriel George, was a ringer there and in St George's Dublin, for many years, as the present Vicar remembers. Three of the bells were in poor condition and had to be recast, including the Tenor, long called 'the old cow' for its tubercular tone, but the three ancient bells were rehung on canon-retaining stocks. They were rung for the first time in almost a century on 16 August 1983. This was followed the next day by a quarter peal of Plain Bob Doubles.
Immediately next to the church, at an upper level, stands a church which is also called St Audoen's, now the focus for the Polish chaplaincy in the city. Built in 1846, some time after Catholic Emancipation, this church does not have a set of ringing bells. St Paul's Arran Quay, one of the first churches built in a prominent position after Emancipation, has a ring of eight, currently chiming only. One of the most magnificent churches in the city, which has the pet name 'Johns Lane' designed by Pugin, has a fine ring of ten, locally cast by Murphys, which sadly are not regularly rung. Access to the ringing chamber is by the scariest stairs and ladders in the ringing world, unless Pershore Abbey is reckoned to be more frightening.
Visiting ringers are welcome in the belfry between 9.30 and 10.00 on Sunday mornings.
If you are interested in ringing the bells please contact the Vicar, Canon Mark Gardner Tel:01-4542274, Mob: 087-2660228.