Church Of Ireland Records can be found at the Representative Church Body Library, Braemor Park, Churchtown, Dublin 14. Contact details can be found by clicking on the link below. Some Church Of Ireland records can be also found at www.irishgenealogy.ie.
The Representative Church Body Library
http://library.ireland.anglican.org

St Audoen's Church,
Cornmarket
Seal of the Guild of St Anne, St Audoen's, Cornmarket
Sited in the heart of the walled medieval city, St Audoen's Church is the only remaining medieval parish church in Dublin. It is dedicated to St Ouen the 7th century bishop of Rouen and patron saint of Normandy. Most of the building is maintained by the Office of Public Works, whose Visitor Centre is open in the warmer months. The Guild Chapel of St Anne houses an award-winning exhibition on the importance of St Audoen's Church in the life of the medieval city. Visitors to St Audoen's can see the part of the church still in use by the Church of Ireland as a parish church. They can also view the 17th century memorials to the Sparke and Duff families and the 15th century effigial tomb to Baron Portlester and his wife.
Location: Close to Christ Church Cathedral
Bus Routes: Located in city centre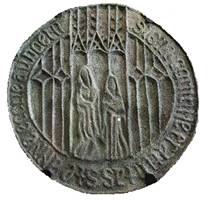 Seal of the Guild of St Anne,
St Audoen's