New Events Announced, D8 Cultural Map & Passport & More
May 14, 2022

-

May 15, 2022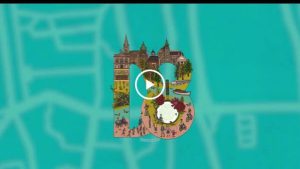 Hello to all of our subscribers

Only 4 sleeps to go until the Culture Date with Dublin 8 weekend is upon us and we are excited to see Dublin 8 come alive this weekend across Saturday 14th and Sunday 15th May!

We hope you have had a chance to explore our Festival Programme for 2022

Our flagship event will be the 'Sing Again' concert by The Guinness Choir in the majestic surroundings of St Patrick's Cathedral on Saturday 14th May at 7.30pm. The Guinness Choir will bring the cathedral to life with a concert which invites people to be uplifted and inspired. A special highlight of the evening includes the inaugural performance of 'The Weaver' by Judith Ring, specially commissioned by The Guinness Choir and The Arts Council. Ticket Booking Essential – Book Here

Another special highlight includes the Spoken Word Concert, set in the hauntingly beautiful grounds of Goldenbridge Cemetery with actors Una Crawford O'Brien, Mary Murray and Emmet Kirwan, followed by a performance by Valerie Armstrong. The stage will be set at the cemetery's outdoor Temple, making for an intimate, authentic and inspiring experience. Free, Ticket Booking Here

With over 30 events throughout 15 locations in Dublin 8 there is something for everyone to discover. Find out more news and highlights below in this newsletter, and wishing you a fantastic and wonderful Culture Date with Dublin 8!

New Events & Additional Tickets for Walking Tours

Due to popular demand we have announced another Walking Tour taking place on Sunday 15th May – Sunday Stroll in The Liberties with Stephen Coyne. Explore some of the beautiful parks and green spaces of The Liberties. Book your free ticket here.

We have also released more tickets for the Liberties Cultural Association Walking Tours on both Saturday and Sunday. More info on the tours and free ticket booking here.

Commonground at The Lodge in Goldenbridge Cemetery will host an open studio and artist talk with local artist, Pat Curran on Saturday 14th May. More info and free ticket booking here.

The Edward Worth Library – a little hidden gem of Dublin 8 – are offering free guided tours of their library on the Friday 13th May. Why not start your Culture Date with Dublin 8 weekend off early? More info and booking here. 

What to do with the Kids this Culture Date with Dublin 8 Weekend

Wondering what to do with the kids over the Culture Date with Dublin 8 Weekend? Don't worry – We have you sorted!

We have created a listing of our family friendly activities and tours which you can do over Saturday 14th and Sunday 15th May. Discover something fun for all the family!

Dublin 8 Cultural Attractions Map & Passport

Now you can stamp your way throughout the attractions sights and delights of Dublin's most historic neighbourhoods with our new Cultural Attractions Passport.

Pick up your passport at participating museums, tourist offices and attractions alongside our newly printed maps.

A perfect collectors piece and memento of your journey through D8.

Special Feature

Twilight Market at The Digital Hub

Saturday 14th May 2pm – 8pm

We all know that markets have a long standing history within the area of The Liberties. Over the Culture Date with Dublin 8 weekend 'We Love Markets' will be hosting a special edition Twilight Market for visitors. This event is a perfect pitstop as you explore the sights and delights of Dublin 8 on Saturday afternoon. Situated in the grounds of the Digital Hub on Thomas Street, the market will host up to 50 eclectic stalls, showcasing a mixture of local design and locally made artisan food, homemade crafts, clothes, furniture, bric-a-brac, vintage wares and artisan goods. The market will support local enterprises, organisations, designers and creatives in Dublin 8 and is a perfect opportunity to explore the area's creative community.

Pick up some delicious lunch, teas and coffees and maybe even a bargain or two along the way.